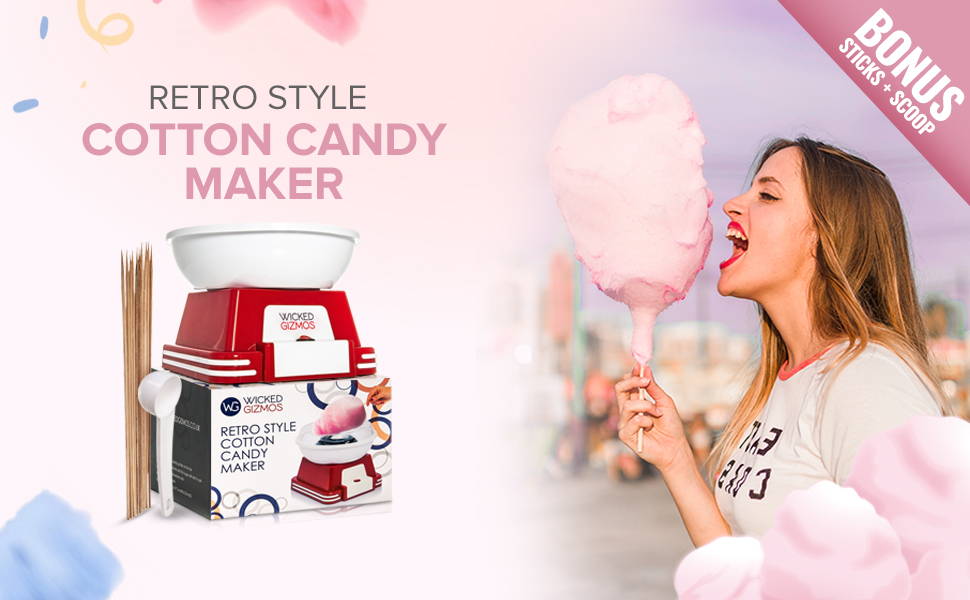 Sticky and fluffy! That's probably the best way to describe candy floss when you're at the fair.
Well now you can get that same great taste and quality in your home within minutes with the Wicked Gizmos Candy Floss Maker. Just use caster sugar for fluffy white floss or add powdered food colouring to make floss of any other colour.

Children of all ages will want to get involved from 5 to 65! However, as with all electrical appliances, the Candy Floss maker must be used under adult supervision.

It's simple to use:
Firstly, allow the candy floss maker to warm up for five minutes then switch off the appliance.
Next, pour a measure of sugar into the hole along with food colouring.
Switch the unit back on and Candy floss will emerge after 2-3 minutes. Although this product is not designed for large-scale catering, it's perfect for celebrations with close family and friends.
Why not throw a retro party for a loved one's next birthday and have someone "stationed" working the Candy Floss maker!
A wonderful gift idea. Adult supervision required - hot and moving parts.